Crush the Midterms
Role: Visual Designer
For: Brand Identity & Web
Tool: Sketch, Adobe Illustrator
Many Americans are outraged by the Trump Administration's abuses of power and threats to our democracy and are looking for ways to get involved in changing the power structure in Washington. Crush the Midterms is a mobile-optimised, web based digital tool that empowered politically energized Americans to make individualized plans to win the 2018 midterm elections.
︎︎︎Case Study
It is the first online platform that puts the power in the hands of voters to create and execute their own campaign plans for the 2018 elections. It provides users with concrete actions on how to spend their time, money, and other resources to support the most impactful campaigns and organizations, and creates a sense of accountability for people, while increasing the likelihood that individuals will follow through on their commitments.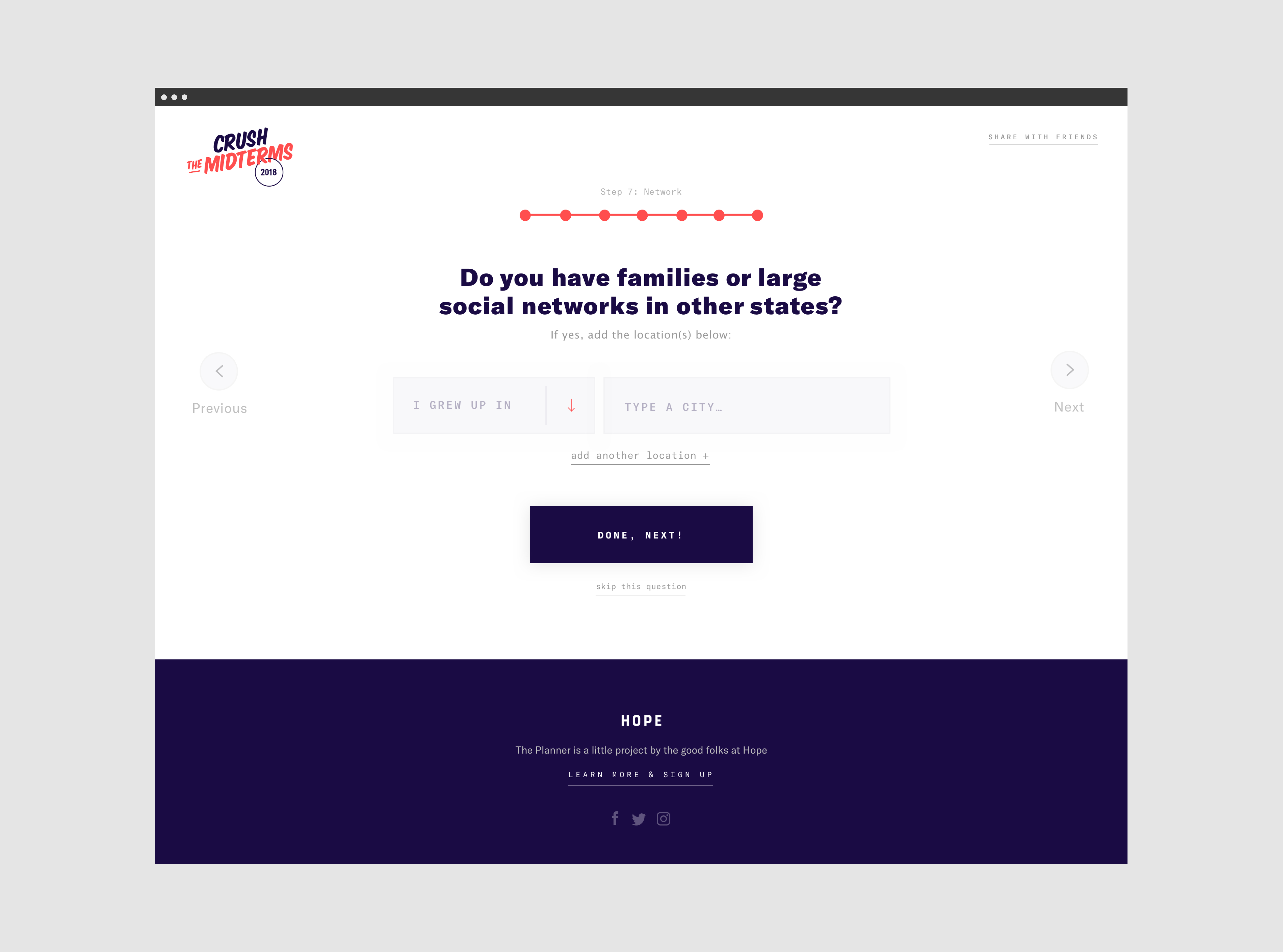 Each user inputs data directly into the online platform via a series of questions -- including their location, availability, preferred causes, desired level of commitment, and special skills. Crush the Midterms then utilizes this data using a specialized algorithm, to create a step-by-step actionable and personalized plan from now until Election Day. The tool integrates seamlessly with Google Calendar, Apple Calendar, and other native calendar apps on mobile devices.
When creating the visual identity, it was important to consider what elements would grab our audience's attention and get them excited to create a plan. In positioning our audience to be protectors of democracy, and drawing inspiration from the verbal identity that features unique and dynamic words like "Crush", the identity evolved into a comic book-inspired theme which granted users superpowers that would help them win the fight.
By the time of the election, Crush the Midterms generated detailed activism plans for tens of thousands of Americans that helped them donate, volunteer, activate their friends and most importantly, vote.
Created at Purpose, 2018
Crush the Midterms was nominated for a 2019 Webby Award in the category of Activism