Public Media Group of Southern California

Role: Lead Visual Designer
For: Responsive Web
Tool: Figma
The Public Media Group of Southern California (PMGSC) is a non-profit broadcasting organization operating two TV stations and a non-commercial satellite television channel. PMGSC partnered with AREA 17 for a redesign of their three sites: KCET, LinkTV, and PBS SoCal.
︎︎︎KCET

︎︎︎LinkTV

︎︎︎PBS SoCal

KCET had recently been rebranded and the goal of the website redesign was to showcase the new brand, which features grid layouts, a bright color palette and color pairings, and abstract patterns representative of the letters K-C-E-T.


Designing a flexible system

This project posed a unique challenge because we had to design a system that could be used across all three websites, despite each having its own unique brand identity. In accordance with KCET's rebrand, the KCET specific pages were designed to incorporate all of the new brand elements, while the shared templates have a more simplified design that can easily be repurposed for the sites with less extensive brand identities.

The shared templates utilize one primary brand color and one CTA and icon color for each site, with the exception of PBS SoCal, which uses its southern california orange for icons and buttons and blue for links in order to maintain the PBS blue throughout the site. The following pages show how the system works across across all three sites.


Because the collections pages are unique to the KCET site, this was a perfect opportunity to introduce high brand moments in a way that makes sense in the broader system. Yellow is used as the primary color across the KCET site but on each collections page this color is replaced with one of the other four brand colors, creating a visual distinction between each collection.
Each site features different types of content, including articles, video clips, and episodes.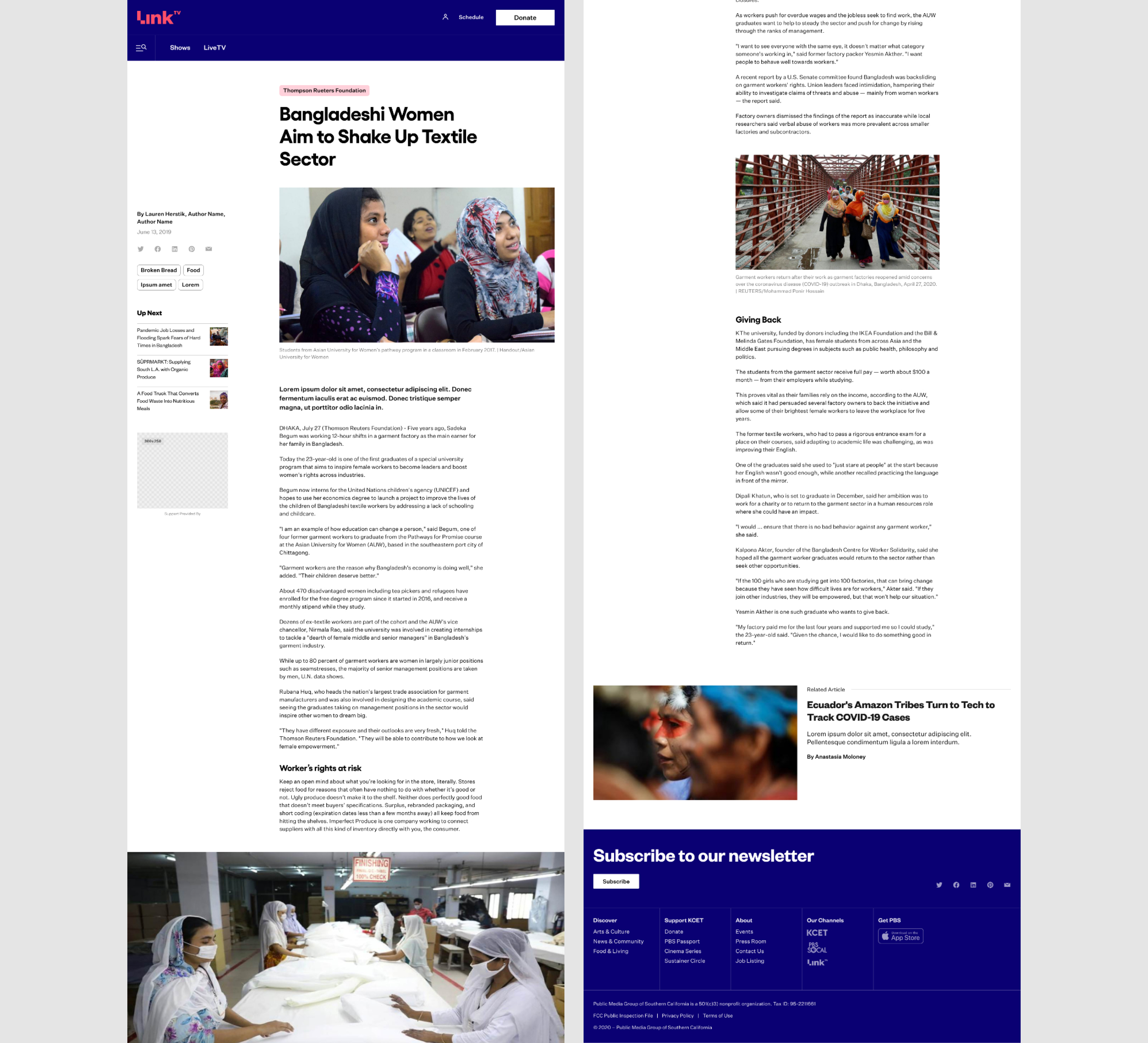 ---
Additional Project Credits:
Carolyn Centeno Milton


Strategy Director



Marius Roosendaal


Design Director



David Lamonthe


Design Director



Patrick Vézina


Interface Engineer
Benoit Lemoine


Designer, KCET rebrand



Brendan Lam


Senior UX Designer



Jesse Golomb


Strategist
Website designed at

AREA 17

, 2020